A MESSAGE FROM OUR NORTH CAROLINA CHURCH WOMEN UNITED PRESIDENT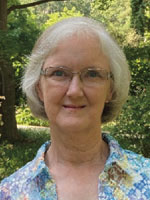 "Therefore, do not worry, saying, 'What will we eat?' or 'What will we drink?' or 'What will we wear?' For it is the Gentiles who strive for all these things; and indeed, your heavenly Father knows that you need all these things. But strive first for the kingdom of God and his righteousness, and all these things will be given to you as well." Matthew 6:31-33 NRSV
The theme for our 2019 Church Women United Celebrations is "The Time Is Now!". There is a tone of urgency in this exclamation! As women of faith, we know that God provides for all our needs, but God does not expect us to sit by idly. It is when we seek the kingdom of God that everything else falls into place. Church Women United seeks God's righteousness in three ways:
We pray. We listen for God to reveal his truth to us through the Bible, through ancient words that stand the test of time, and through the wisdom of today's diverse women in CWU who believe that love and service to others is central to following Jesus.
We act. Our National CWU helps us focus on specific action areas through quadrennial priorities related to human rights, hunger and poverty, health and wellness, and diversity and inclusiveness. Specific action steps are offered for our state and our units to follow.
We advocate. We know the kingdom of God is one of justice and compassion. We seek justice for farmworkers. We show compassion to vulnerable children. We join with other groups to advocate for fair districting in North Carolina to assure each of us has a voice. As we pray "Thy Kingdom come", we move towards a collective vision of God's rule on earth.
More than ever before, the time is now, to agree to differ, resolve to love and unite to serve. All are welcome to join our journey!
With Christian love,
Emily Sprague