A MESSAGE FROM OUR NORTH CAROLINA CHURCH WOMEN UNITED PRESIDENT
Grace to you and peace from God our Father and the Lord Jesus Christ. I thank my God in all my remembrance of you, always in every prayer of mine for you all making my prayer with joy, thankful for your partnership in the gospel from the first day until now. And I am sure that he who began a good work in you will bring it to completion at the day of Jesus Christ. (Philippians 1:2-6 RSV)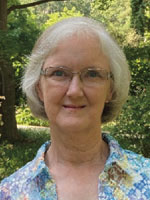 Those verses in Philippians mean so much to me. They were sent, as the greeting in a letter, by the dear woman who served as our hostess when a group of us visited Zimbabwe a number of years ago. What I remember most about the woman was her loving spirit, gracious demeanor, and infectious joy. What I remember most about the trip is that Zimbabwe was in the third year of a severe drought, and there was little food and even less water in the land. Yet the people that we met rejoiced in the Lord and gave of the little they had to us.
And so, when I greet you with these same verses, I want you to know that, from the bottom of my heart, I, too, thank my God in all my remembrance of you, thankful for your partnership in the gospel, thankful for your participation in Church Women United, thankful for your loving, gracious, and generous spirits.
The year 2016 is before us. We will be Gathering at God's Table, Finding Grace at the Table, Experiencing Blessings at the Table, and Sharing Gifts at the Table. We will be blessed – blessed to be a blessing to others. Do not let these opportunities for blessing pass by without inviting others to join us at the table. Do everything you can to make Church Women United more visible this year. I've found that many people do not know what Church Women United is or, worse, confuse us with other organizations. And, by the way, we are not an "organization," we are a "movement"—an historic grassroots movement of women who share a vision of Christian unity and prayerful action, a movement of women who will be celebrating our 75th birthday this coming October 13-16 at the Galt House in Louisville KY. Theme for the celebration is "Remember! Rejoice! Rebuild!" And that is what we want to do – remember whose we are, remember what CWU is, rejoice in those things, and rebuild by inviting others to be a part of this amazing movement.
In Christ's love and service,
Judy
P.S. Make every effort to join us in Louisville. You will be blessed. More about this throughout the year!